M i d i - P y r é n é e s
F R A N C E
Hôtel du Lion d'Or - 12140 Entraygues-sur-Truyére - -
Hotel du Lion d'Or in Entraygues-sur-Truyère, Aveyron, France,
is located in the Lot valley, between Dordogne and Provence.

For your holidays in France, the hotel offers you accomodation : bedrooms and appartments (vacation rental) to rent for a day, a week-end, a week or several weeks.

Our accomodation provides also various internal activities: heated swimming-pool, tennis, sauna, jacuzzi, miniature-golf, gym.

There are 33 bedrooms and 7 apartments to rent.
And let's take a rest in the exotic garden...

At the confluence of the lot and truyère rivers and near many lakes, you can practice nautical sports: to go boating, canoe-kayak, rafting, fishing...

During your stay in the country in Aveyron, discover the natural environment and enjoy it through hiking, horse riding, cycling...

You absolutely have to visit : our medieval village Entraygues, Estaing and its castle, treasures of Conques, Rodez cathedral, Laguiole with skiing and its famous knife, and obviously you can organize a one day trip to visit the new highest bridge in the world, the viaduc de Millau...

Finally, don't forget to enjoy our regional cooking and wines...








Presentation of THE HOTEL DU LION D'OR in video


Sports
LE LIORAN : STATION DE SKI ALPIN ET FOND
Nichée dans un cadre exceptionnel, au milieu des sapins, la Station de ski du Lioran s'étend sur 150 hectares, de 1160 à 1850 mètres d'altitude.

42 pistes pour 60 Km skiables.
11 pistes vertes, 12 pistes bleues, 14 pistes rouges, 5 pistes noires.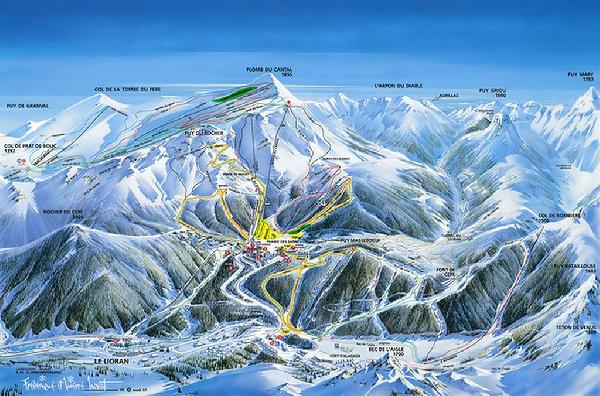 Le Lioran - Cantal - Auvergne - Plan des pistes de ski alpin


Les équipements
22 remontées mécaniques font du Lioran le domaine skiable le mieux équipé du Massif Central
*8 télésièges dont un télésiège débrayable au Plomb du Cantal et le nouveau télésiège du Remberter
*13 téléskis, dont 4 télébaby.
*1 téléphérique relie la station du Lioran au Plomb du Cantal (1856m). Il peut contenir jusqu'à 80 personnes et vous monte à la vitesse de 10 m/s sur le plus haut sommet du Cantal.

Un réseau optimisé de canons à neige permet l'enneigement de 10 pistes et de l'espace débutant au coeur de la station.

Le Lioran c'est aussi le plaisir de goûter à la neige sans les skis : Chiens de Traîneaux, motoneiges, balnéothérapie, pistes de luge, dévalkart, randonnées raquettes, téléphérique du Plomb du Cantal, Patinoire.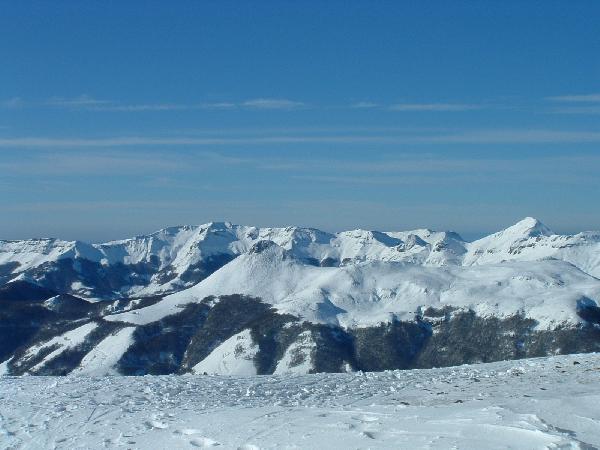 Le Lioran - Plomb du Cantal - Plus haut sommet du Cantal


www.lelioran.com